Testimonials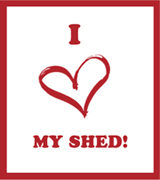 Heartland proudly boasts having over 1.5 million happy customers… and counting more each day! Here are some things Heartland customers have to say about us.
Peter Fata
I just recently purchased from Lowes and built your Rainer 10×10 storage shed. The directions were easy enough to follow and no specials tools were required (although we did use a nailing gun to speed things up). Took approximately 2 days to complete aside from painting and I'm very happy with my end result Great product, at an affordable price. I've seen similar sheds with less storage space sell for twice as much!"
Robert | Thibodaux, LA
Board was cut short on ladder and was replaced in 2 days. Excellent service. Tire was coming apart at seam, filing claim. Very satisfied. "
5-Star Admiral Installed..
James | Charlotte, NC
This had the best, most usable space of any 8 x 8 building I looked at, and I liked having a window for light. "
Installed 8×8 Belmont Gable…
Edmund | Lafayette, OR
The two men who set up my storage were very polite and courteous. I will be recommending them to all my friends in the future. Thank you."
Installed Stratford 12 x 8…
Edward | Youngsville, LA
Builder was first class. I am very impressed, satisfied and with it was bigger."
Installed 8×8 Belmont Gable…
Charia | Youngstown, OH
2 YOUNG INSTALLERS WERE HARD – WORKING (TOOK NO BREAKS) COURTEOUS AND LEFT AREA IN IMMACULATE CONDITION – MUCH APPRECIATED! HOPE TO SEE THEM AGAIN IF WE PURCHASE AN ADDITIONAL BUILDING."
Installed 8×8 Belmont…
Ted | Grand Junction, CO
The building was purchased and built at my location in 6 days. Other companies were 3-4 weeks out. Thanks!"
Installed 12×8 Stratford…
Roger | Clinton, CT
I purchased a Heartland shed in 1996 and the quality is better than ever. Keep up the good work."
Installed 10×12 Estate…
Alfred | Norma, NJ
Was very surprised on the time it took to install the shed. Approx 4 1/2 hrs. + by one man."
Installed 10×10 Rainier…
Joe | Jeannette, PA
Was very surprised on the time it took to install the shed. Approx 4 1/2 hrs. + by one man."
Installed Captain's Loft…
M. Vipperman | North Ridgeville, OH
KID'S LOVE IT!!!!"
Installed 5-Star Admiral Design B…
J. Warren | Galesburg, IL
THE INSTALLER WHO INSTALLED MY SHED WAS VERY NICE AND COURTEOUS. WOULD RECOMMEND HE GETS A RAISE. WOULD LIKE TO TELL HIM MYSELF HOW WELL HE HAS DONE!!"
Installed 10×12 Statesman…